The Road Safety Toolkit provides free information on the causes and prevention of road crashes that results in death and injury.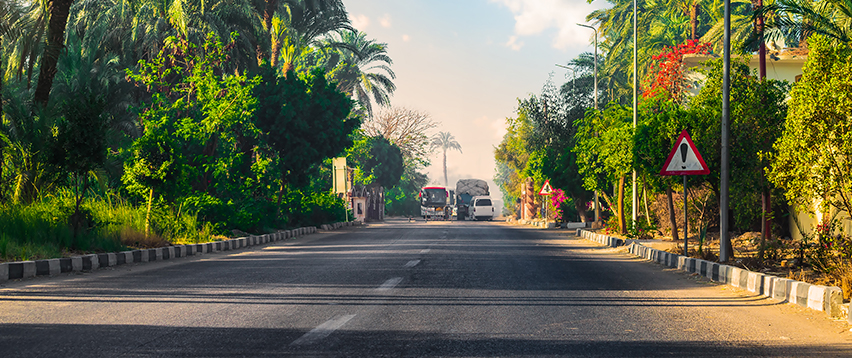 As we move into the 2030-Decade of Action for Road Safety, we are reviewing the Toolkit and welcome your feedback about the website and suggestions about how it can be improved.
Building on decades of road safety research, the Toolkit has helped engineers, planners and policy makers develop safety plans for car occupants, motorcyclists, pedestrians, bicyclists, heavy vehicle occupants and public transport users.
The Road Safety Toolkit is originally the result of collaboration between the International Road Assessment Programme (iRAP), the Global Transport Knowledge Partnership (gTKP) and the World Bank Global Road Safety Facility. ARRB provided expert advice during the Toolkit's development. This review of the Toolkit review is funded by Bloomberg Philanthropies and is being undertaken by the Global Road Safety Facility with support from iRAP.
Case Studies related to Crash Types
Related Case Studies
Project Leads
Description
A Brief Overview on the Road Safety Approach in Singapore
Global Road Safety Facility (GRSF)
The report introduces how the Safe System Approach works, with a focus on road infrastructure and road safety engineering best practices from one of the best performing countries in Southeast Asia and the Pacific, Singapore.
A-375 Road
Regional Government of Andalusia (Spain)
This case study describes the reduction in number of head-on and run-off crashes on A-375 road in Spain after implementation of central line rumble strips.
A-4 Highway
Spanish National Government
This case study describes the improvement in Star Rating after implementation of safety barriers on selected section of A-4 highway in Spain. Star Rating improved from 3-star to 4-star for vehicle occupants and from 1-star to 2-star for motorcyclists.
A404 Amersham
Road Safety Foundation (RSF)
This case study describes the upgrades that were implemented on Britain's most improved road as reported in the British EuroRAP Risk Mapping Results 2014. The upgrades have improved the Star Ratings to 39% 2-star, 28% 3-star and 33% 4-star for this road user group. For pedestrians the upgrades have seen the Star Ratings improve from 17% 2-star, 62% 3-star and 21% 4-star to 56% 3-star and 44% 4-star with the 2-star sections eliminated…
Amend and Zoleka Mandela Cut the Ribbon on Lifesaving Infrastructure in Accra, Ghana
Amend
In March, 2020, Zoleka Mandela joined Amend at Oblogo Schools in Accra, Ghana – where recently two children have been killed and many injured in traffic – to cut the ribbon on lifesaving infrastructure.
Análisis de conflictos viales: metodología y resultados en el entorno escolar de BINE, Puebla
Center for Control and Disease Prevention (CDC)
An intersection adjacent to the Benemérito Instituto Nacional del Estado (BINE), was improved with low-cost infrastructure widening the pedestrian spaces through the implementation of bollards and markings, which reduced pedestrian crossing, reduced the exposure time of pedestrians crossing the road and rearranged the parking area. The intervention led to a 69% decrease in road conflicts compared to the situation before the intervention, and a star rating increase from 1 to 3 stars.
Belgaum – Yaragatti State Highway-20 in Karnataka
World Bank
Case study presents the infrastructure improvements and the resultant reduction in crashes on Belgaum – Yaragatti State Highway in Karnataka, India. Implementation of treatments such as intersection improvements, 2+1 lanes, pedestrian crossing facilities, roadside safety barriers, speed calming etc. showed significant improvement in Star Rating and over 50% reduction in fatalities.
Belize City to Belmopan Road Safety Improvements
Caribbean Development Bank (CDB)Government of Belize
Upgrades to the demonstration corridor, informed by iRAP's recommendations led to: improved safety performance of the road from 5% 3-star or better to 100% 3-star or better; fatality reductions from 33 deaths a year to a 5-year average of 8.
Best Practice for Urban Road Safety: Case Studies
Agència de Salut Pública de Barcelona (ASPB), City of Buenos Aires, City of Fortaleza, City of Rotterdam, New York City Department of Transportation (NYC DOT), OECD International Transport Forum (ITF), Transport for London (TfL)
These case studies from Bogotá, Barcelona, New York City, Buenos Aires, Fortaleza, Rotterdam and London illustrate the diversity of approaches available to better understand and prevent serious road crashes in cities. They also include experiences of developing reliable traffic injury data, enforcing speed limits, implementing safer street design, and predicting and preventing road crashes. Each case study exemplifies best practice in one or more of the areas examined.
Better Data for Safer Roads in the Philippines: New legislation supporting nation-wide scale up of DRIVER in the Philippines
Bloomberg Initiative for Global Road Safety (BIGRS)
The Data for Road Incident Visualization, Evaluation and Reporting System (DRIVER) was integrated into the daily workflow of Philippine National Police (PNP) in 2020 through a legislation. Effective monitoring and trainings were established in regional, provincial, district and city levels to ensure faithful compliance. This is another strong milestone in establishing DRIVERS as the national crash data collection system in the Philippines.
Bruce Highway (Cooroy to Curra) Upgrade
Australian Government, Queensland Government
This case study describes the upgrades which were implemented on Cooroy to Curra section of Bruce Highway. A new 12km, 4-lane divided highway with safety barriers, grade separated interchange, etc. was delivered through an investment of AUD$513 million. Comparison of the reported crash data on the old Bruce Highway to the new alignment show an 82% reduction in fatal and serious injuries (FSIs).
Building Momentum for Seat-Belt Laws in Turkey
Turkish Red Crescent Society (TRCS)
In 2012, Turkey's Prime Minister launched the Road Safety Strategy and Action Plan. This important government strategy set a goal of increasing seat-belt use from 44% to 70% in urban areas and 76% to 90% in suburban areas by 2015, and 80% and 100%, respectively, by 2020. Tactics in this Case Study include: engaging traditional media through press conferences and collaborating with partners to create a civil society declaration.
Building safer roads through better design and better contracts
Government of Tamil Nadu, World Bank
This road sector project in the Indian state of Tamil Nadu shows how relatively simple and affordable design improvements can make roads significantly safer, and bring other important benefits such as enhanced drainage and water conservation. Facilities installed had combined increased construction costs by only about 10% ($100,000 per km)—a worthwhile investment in light of the safety and operational benefits. It is estimated that deaths fell by around 31% after facilities were installed.
Central Hatching in Malaysia
Malaysian Institute of Road Safety (MIROS)
After iRAP Malaysia pilot project in 2008, MIROS undertook a study to test the effectiveness of central hatching which was recommended by iRAP at selected locations. The study involved installation of central hatching on a 2.8km length section of four lane highway and evaluation of resultant impacts.
Child-Centering Road Safety: Making Sure It Works for Girls and Boys
Asian Development Bank (ADB), Shaanxi Provincial Department of Transportation
From 2015–2020, the Asian Development Bank (ADB) supported a project in the People's Republic of China (PRC) that made system-wide improvements to road safety,(link is external) including infrastructure, institutional strengthening, and education interventions. Child-centered and participatory methodologies were used in three primary schools and their communities along #102 Provincial Highway in Xunyang County, South Shaanxi.
Collection of reports on the investigation of severe road crashes in the web site of France's Bureau of Investigation for Accidents of Surface Transports
Land Transport Accident Investigation Bureau
The land transport accident investigation bureau (BEA-TT) performs technical investigations into serious crashes to prevent similar occurrences.
Corridor C-12 Road
Catalan government
C-12 is a single carriageway road, without median separation, and has relatively high operating speed and moderate curves. The study shows a comparison of baseline Star Rating with the achievable Star Rating by implementing the suggested investment plan and a scenario to provide 2+1 lane configuration with median barrier throughout.
Corridor C-55 / C-58
Catalan government
This case study describes the benefits of implementation of median barrier along a highspeed road segment which recorded and high number of fatal crashes. iRAP Star Rating increased from 2-star to 3-star on the sections of road where median barrier was installed. Fatal and serious injuries in the three years after implementation were almost half the number in the three years before. The number of fatalities was reduced from 16 to 1.
Creating and Implementing a Plan for Child Helmet Use in Vietnam
Asia Injury Prevention (AIP) Foundation, Government of Vietnam
Through careful research and planning and working closely with the government, by a coalition initiated by the AIP Foundation, within one year helmet wearing has significantly increased. This Case Study's tactics include drafting an action plan, coalition building, identifying and engaging key champions, launching a public awareness campaign, creating and distributing a school manuals, engaging with traditional media, and monitoring implementation.
Creating Spaces for Kids in Istanbul: The Transformation of Zümrütevler Square
Maltepe Municipality, NACTO-GDCI
This case study discusses the transformation of Zümrütevler Square in Istanbul. Unorganised parking space in the square has been converted into children's play area and space for pedestrians.
Cross-sections and mid-block National Road M2-R7 Saratenii-Soroca-Drochia Junction
Millennium Challenge Corporation(MCC)
This case study focuses on the influence that elements of design may have on the Star Rating Score (SRS), the values in the scale that determine which of the Star Rating bands (1-5, with 5 the safest) a road section may achieve. SRS scores reflect risk to individual road users, the higher the score the higher the risk. The case study shows the application of Star Rating for Designs (SR4D) in this process. Its shows how SR4D may assess the safety of the road and elements of the road before construction begins.
CRTIP project
UNICEF and Safe Kids Worldwide
Child Road Traffic Injury Prevention (CRTIP) program aims to make roads safer for children in the Philippines by developing models for child road traffic safety programs, strengthening data collection and analysis, improving road safety laws and policies, enhancing multisectoral action for children's safety, and improving road safety education for school children. As a pilot, 66 schools were assessed using SR4S and four school were upgraded.
Cycle friendly traffic calming on the F3 cycle highway
Municipality of Herent
Where a road crosses a village, there is often limited space available between buildings. The reconstruction of Lodewijk van Veltemstraat in the municipality of Herent is an example how to provide continuous cycling infrastructure in such case.
Delivering Road Safety in India
Global Road Safety Facility (GRSF)
The report points to the high death rate on India's roads caused by a chronic lack of investment in systemic, targeted, and sustained road safety programs and identifies relevant investment priorities to reverse the trend.
E75 (NR-90, CH.182+400 – CH.184+600)
EuroRAP
In this case study, the Star Rating for Designs is used to illustrate how the safety performance of a specific road section can be assessed when countermeasures are proposed at the design stage. It is also proved that it is not mandatory to rely upon crash data to demonstrate a potential safety improvement.
Effect of the helmet act for motorcyclists in Thailand
Government of Thailand
After enforcement of the helmet act, helmet-wearers increased five-fold while head injuries decreased by 41.4% and deaths by 20.8%. Those who had head or neck injuries or died were less likely wearing a helmet.
Effectively Reducing the Number of Drink Drivers
Mexican Red Cross Society (MRCS)
The Mexican Red Cross Society teamed up with the local police in Guanajuato, Mexico to help garner public support and increase legitimacy for drink driving enforcement checkpoints. Tactics in this Case Study include: engaging traditional media through a kick-off meeting, utilizing volunteers to help convey the road safety message, and creating partnerships to bolster effectiveness.
El Salvador's Coastal Highway
Government of El Salvador, Millennium Challenge Corporation (MCC)
A safer road design was achieved particularly for vulnerable road users, lifting the original design from a largely 1-2 Star Rating, to a 2-5 Star Rating. It also lead to a better understanding within the road authority of road safety design principles.
Evaluation of Wide Centreline Treatment Effectiveness
Queensland Department of Transport and Main Roads
Wide centrelines increase separation of opposing traffic with painted lines up to 1 metre wide, often accompanied by audio-tactile linemarking. The Queensland Department of Transport and Main Roads implemented this treatment on selected sections of the Bruce Highway in 2011. This evaluation found that head on fatalities and serious injuries reduced by 30% and run off road fatalities and serious injuries reduced by 24%.
Final evaluation of 80 km/h speed limit on single carriageway roads outside built-up areas in France
Cerema
To support a national target of a 50% reduction in road fatalities, speed limits on two-way rural roads with
no central separator in mainland France. The initiative resulted in significant reductions in serious trauma and overall socio-economic benefits of more than EUR 700 million per year.